Homemade caramels are perfectly soft and chewy.  They are so easy to make and are great for gifts for friends and neighbors or just for your family to enjoy!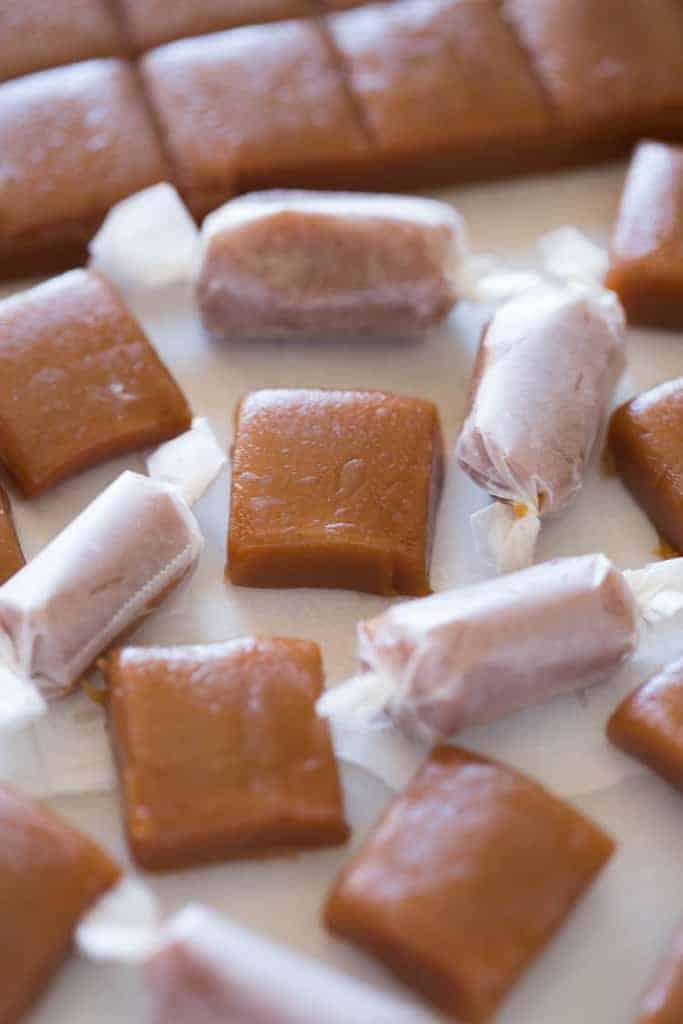 So let's talk caramels! Do you know there is a difference between caramel and carmel?  Caramels are these scrumptious little candies that you are hopefully planning to make today.  Homemade, perfectly soft and chewy caramels are my weakness, and this is a treasured family recipe.
My family usually reserves them for our special treat at Christmas time. We give them as neighbor gifts and always have a huge batch to enjoy ourselves!
The ingredients for these caramels are very simple. Butter, sugar, karo syrup, evaporated milk, and vanilla extract. However, the key to creating magic–that amazing rich caramel taste and texture–is in the cooking process. These can't be rushed! Read my tips below, for making perfect caramels, every time.
Once you pour them into a jelly-roll or 9×13" pan, allow them to cool completely. You can refrigerate them for a long time. I usually refrigerate them until they are nice and cool, pull the whole pan of parchment paper out onto a cutting board, and then cut them into small squares. They are much easier to cut when they are cold.
They are seriously the tastiest little caramels ever! "Melt-in-your-mouth delicious" is probably the best way to sum them up!
Tips for perfect caramels:
Slowly stir in the evaporated milk:
It is imperative that you add the evaporated milk just a little bit at a time, taking about 15 minutes per can, to stir it in, so that the mixture maintains a constant boil the entire time. This is a really simple, easy step, but if rushed, you can ruin the caramels.
*If you add the evaporated milk too quickly, the sudden change in temperature of the caramels will cause them to curdle.
Maintain steady heat:
Maintain your burner/stovetop at medium heat. Again, you don't want any drastic changes in temperature as you cook the caramels.
Candy Thermometer vs. Ice Water Test
I personally don't trust candy thermometers. Unless you take the time to calibrate yours and make sure it's correct, they can often times be "off". And, depending on your location (altitude and humidity) 238 degrees F may not be the perfect temperature for you.
The best (and easiest) way I've found for success in any location, is using the ice water method. Drop a spoonful of the hot caramel into a cup of ice water. Mold the caramel with your fingers into a ball. You will know the caramels are ready when they feel pretty firm and pliable.
CONSIDER MAKING THESE CHRISTMAS SWEETS THIS HOLIDAY SEASON:

You can also FOLLOW ME on FACEBOOK, TWITTER, INSTAGRAM and PINTEREST for more great recipes!
Recipe
Homemade Caramels
Homemade caramels are perfectly soft and chewy and so easy to make!
Instructions
Line a 9x13'' pan or jelly roll pan with parchment paper. (If you don't have parchment paper you can generously butter the pan.) Either size pan will work--9x13'' will yield thicker caramels.

Add 2 sticks butter, sugar, and karo syrup to a large heavy-bottom saucepan over medium heat. Stir over medium heat until mixture begins to boil, about 5-10 minutes.

Gradually add the evaporated milk, one can at a time, taking about 12-15 minutes PER CAN to slowly add it, while stirring constantly. You want to make sure the mixture maintains a constant boil, otherwise your caramels can curdle.

Stir the mixture constantly, scraping the sides occasionally until it reaches a firm ball stage (about 240-245 degrees F on a candy thermometer). It takes patience and time, but it's sooo worth it! (Also, I don't really trust or rely on a candy thermometer--I like to test it the old fashioned way. Drop a spoonful of hot caramel sauce into a cup of ice water and mold it with your fingers into a ball. When ready it will feel pretty firm and pliable, but still slightly sticky.) 

Once you reach 240-245 degrees F / or the firm ball stage, remove from heat. Stir in vanilla.

Pour caramels into prepared pan. Refrigerate until cooled and hardened. (Best if you refrigerate them overnight, or for several hours. They will be easier to cut and wrap). 

The caramel will seem hard in the fridge after they're set, but they should be soft at room temperature. Cut caramel into small pieces and, if desired, wrap like a tootsie roll in wax paper.
Notes
Don't miss the tips and tricks for this recipe listed above in the post!
Nutrition
Calories:
94
kcal
Carbohydrates:
17
g
Fat:
2
g
Saturated Fat:
1
g
Cholesterol:
8
mg
Sodium:
34
mg
Potassium:
26
mg
Sugar:
17
g
Vitamin A:
90
IU
Vitamin C:
0.2
mg
Calcium:
24
mg
Did You Make This Recipe?
Tag @TastesBetterFromScratch on Instagram with #TastesBetterFromScratch!
Have you tried this recipe?! 
RATE and COMMENT below! I would love to hear your experience.